We took my old office, got rid of the desk, and moved the guest bedroom into it.
Before, when it was my office: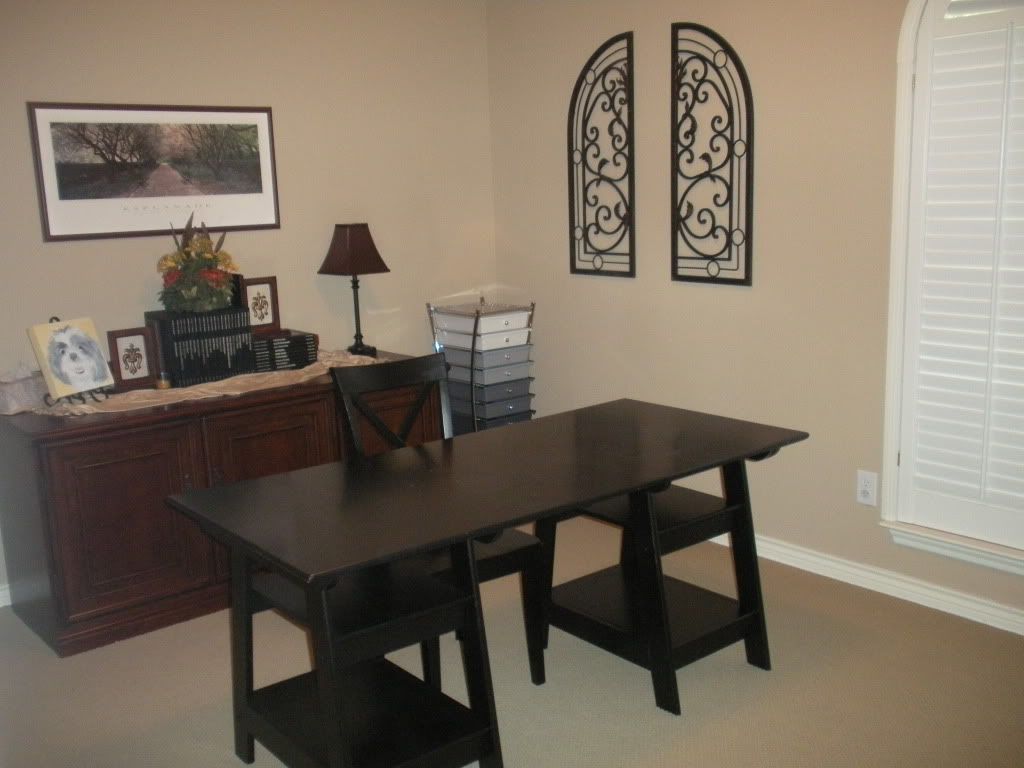 After? Well, the after pic is nowhere to be found, even though I know I took one. Basically, we've moved a queen sleigh bed into the room, and moved the console over to the side wall to serve as a dresser for now. I would take a picture of it right now, but the room that was once perfectly put together, is now a catchall for my garage sale stuff that I have to get rid of before the little guy gets here. So.... Just know that this office became the guest bedroom!
Then, we took the guest bedroom and converted it to a nursery!
Here it was before: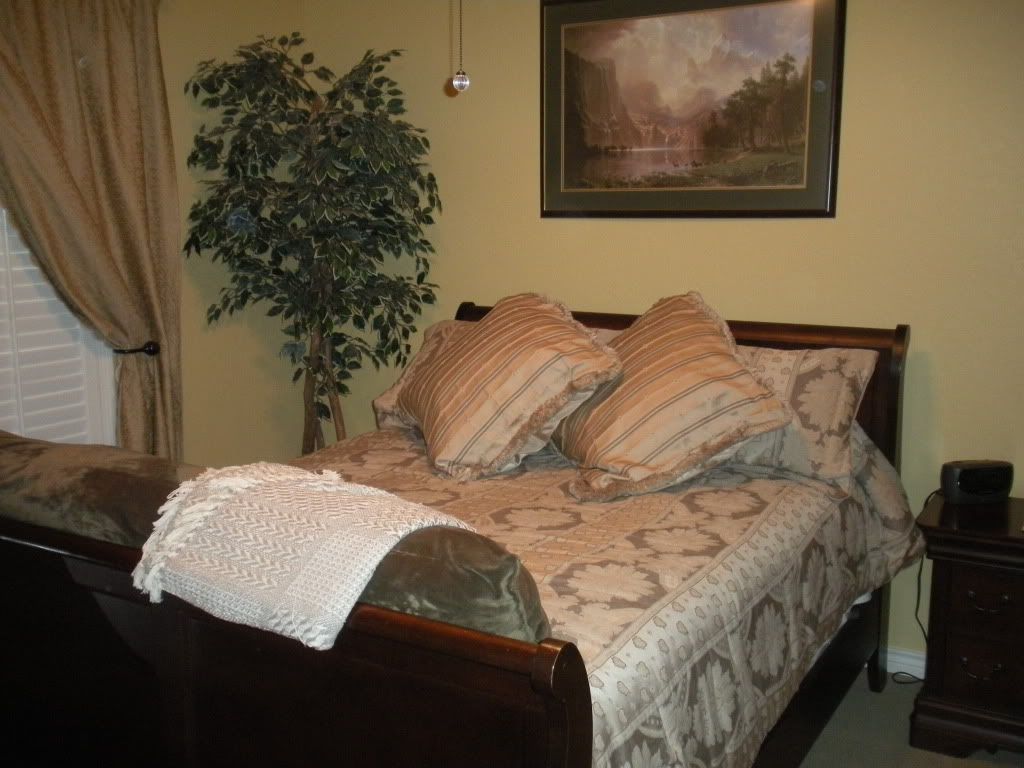 Moving all the junk out: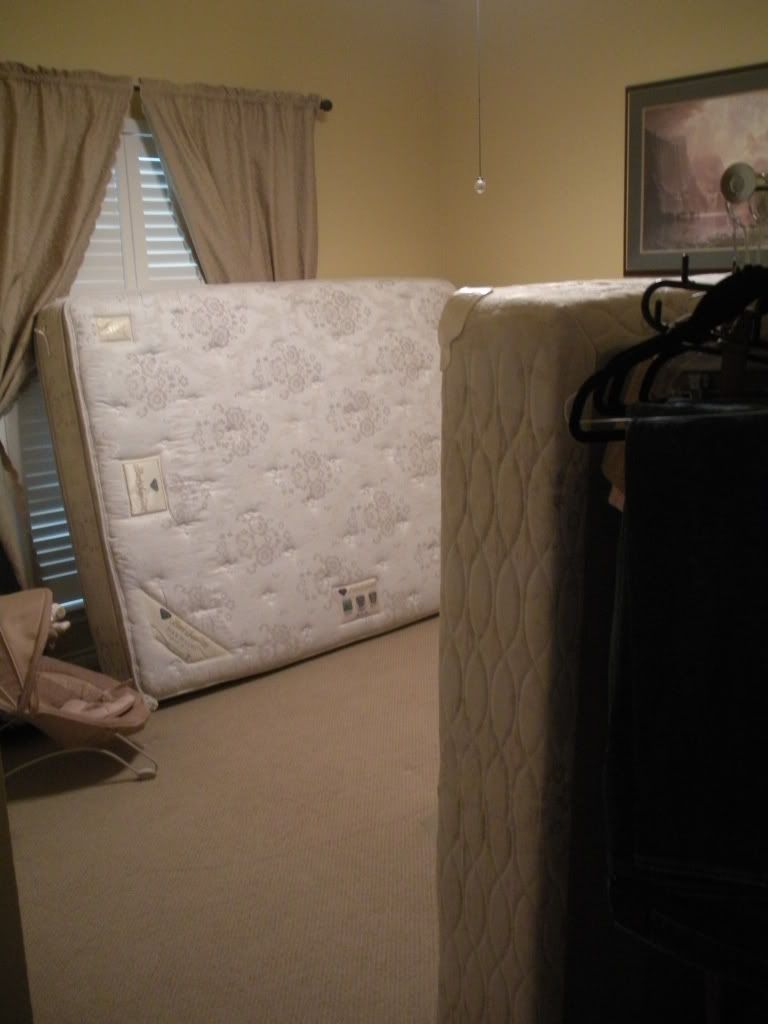 The walls were a dark mustard-buttery yellow. I can't really describe the color very well. It would have worked for a baby's room, but it was a little overpowering and didn't really match the bedding I had chosen very well. When we bought this house, this was the only bedroom we didn't paint because it was in really good shape, and it matched the guest bedroom things. However, it had to be repainted for the nursery. We chose our old standby color of Nomadic Desert by Sherwin Williams.
Taping it off: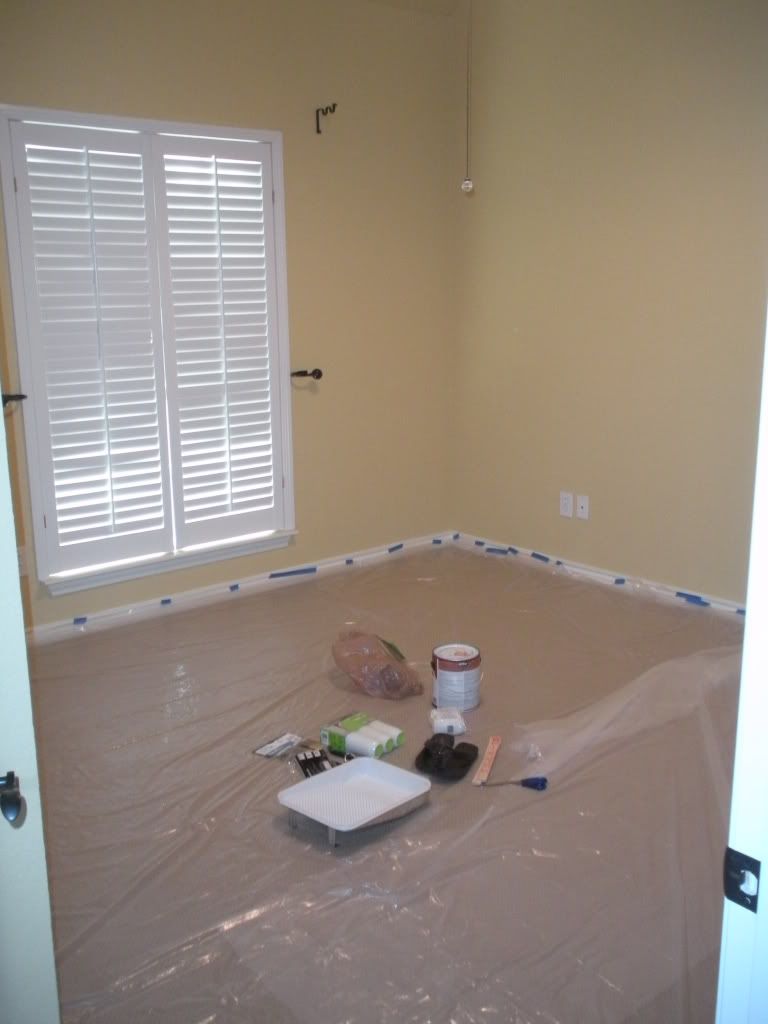 We have 11-foot ceilings, and unfortunately, the ceiling had to be painted, too. I did all the work BY MYSELF, between 11 and 14 weeks pregnant. My other half was very supportive and said he'd help, but he was too busy with work-stuff, so I ended up hammering it all out. Getting there: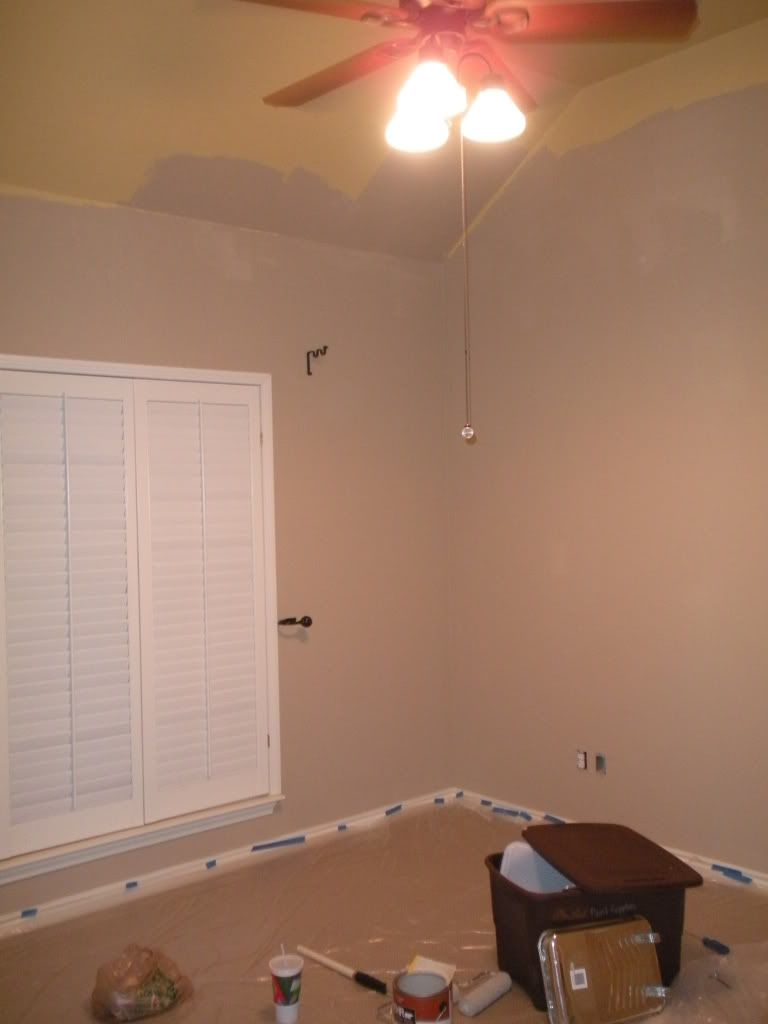 In these pics, it looks kind of gray, but it is actually a warm, dark beige.
All done!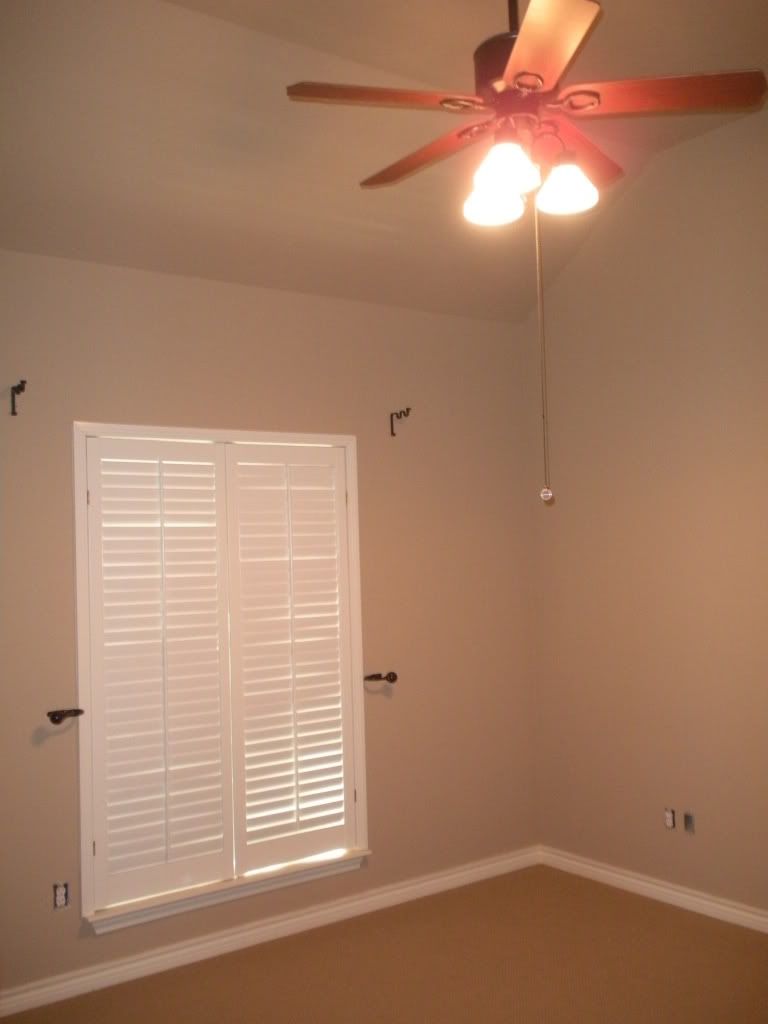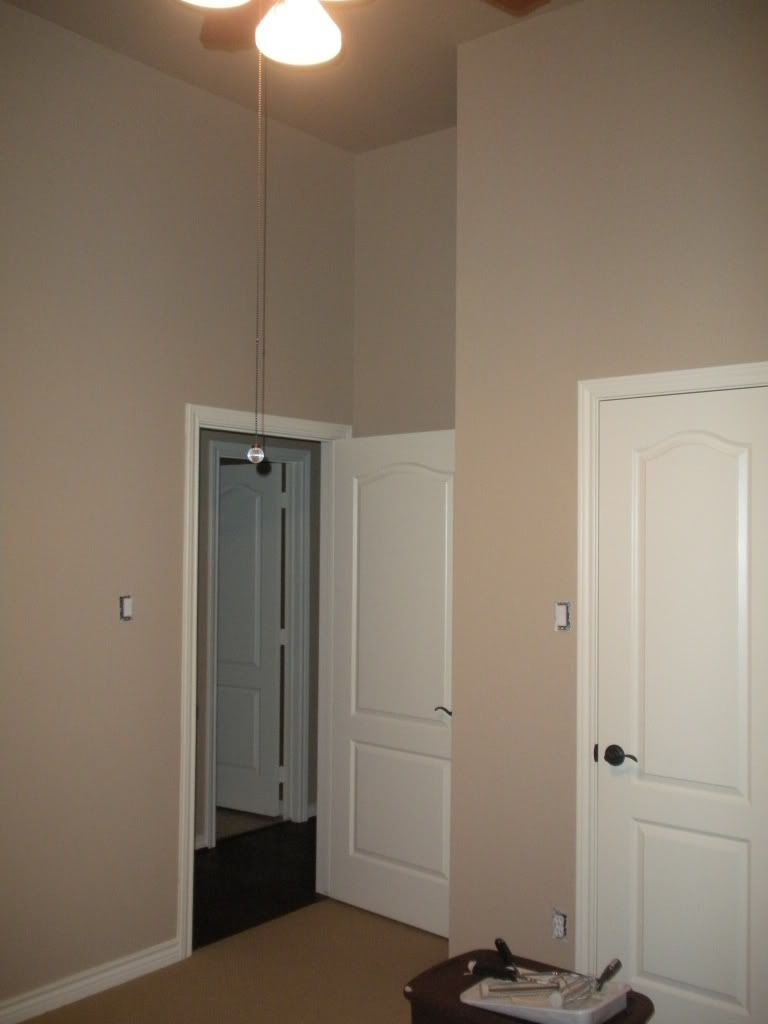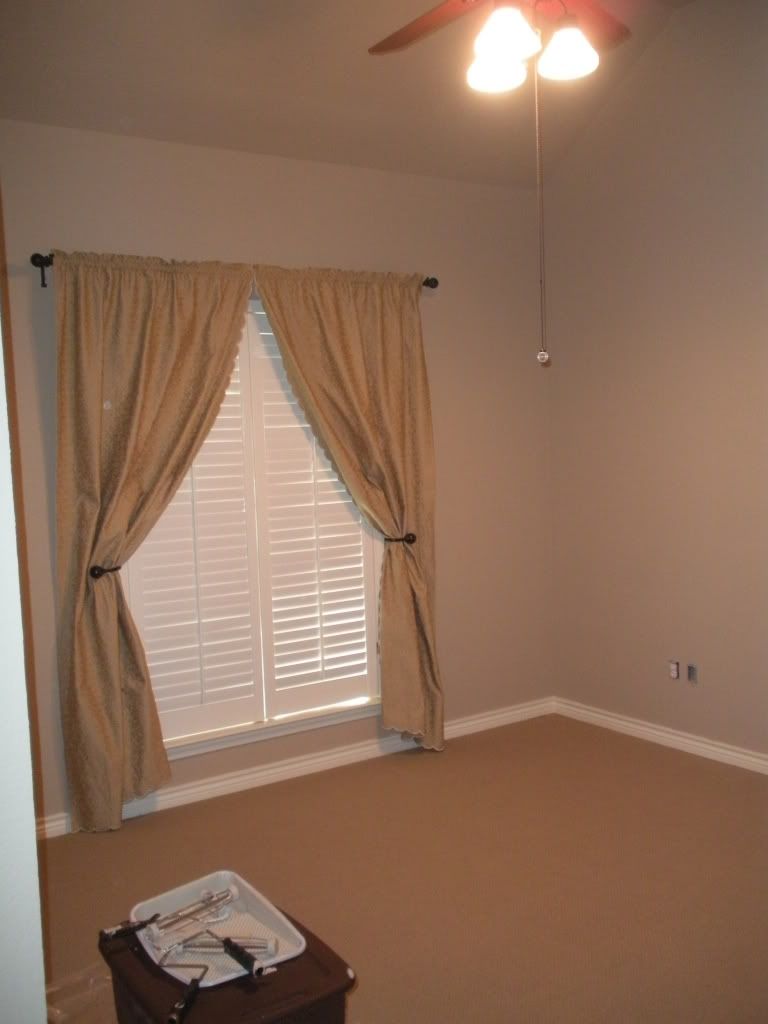 The bedding we chose is "Patchwork Puppy" by the Gap, and it is on sale right now! I got the bumper, crib skirt, quilt, valance, mobile and a tiny nightlight. Ignore the mattress in these pictures, as I haven't put on a crib sheet yet.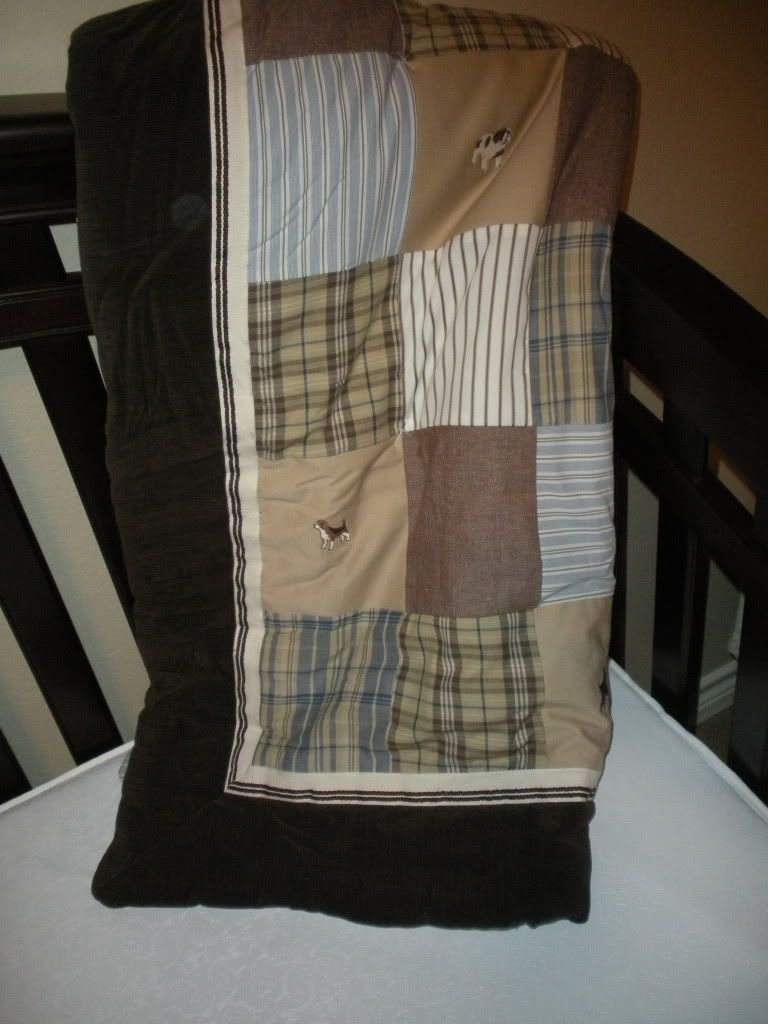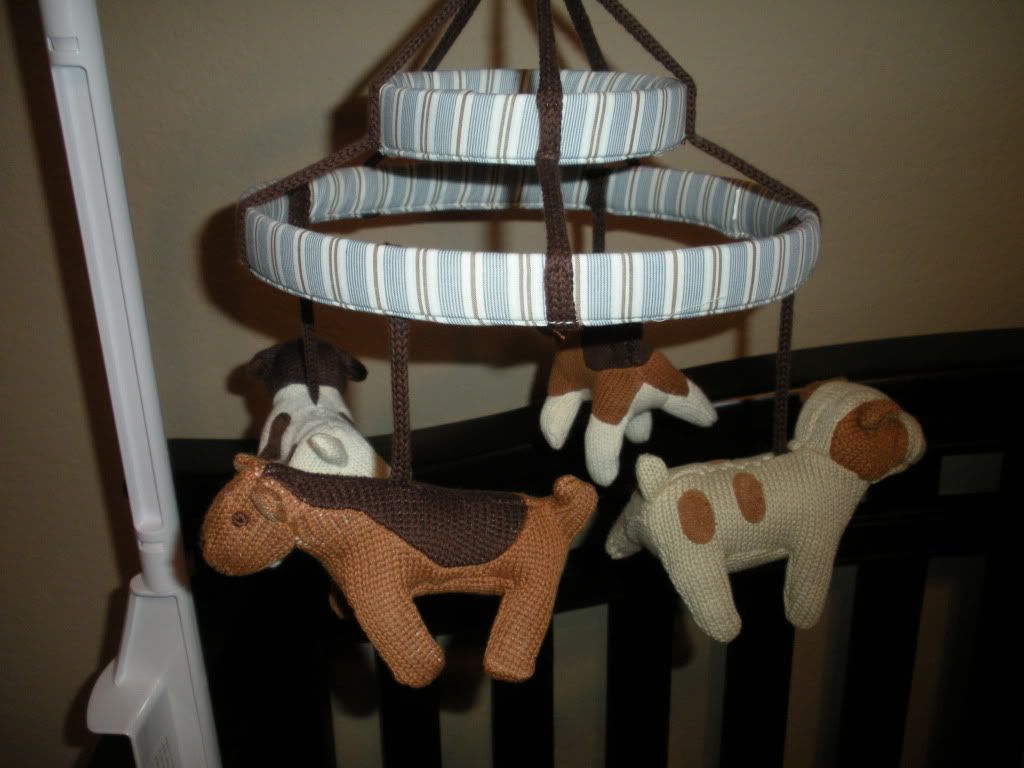 The furniture is an espresso finish. It is called Cocoa Bear, and is sold (I think exclusively) by Buy Buy Baby. We only did the chest, dresser, and crib. That's pretty much all that would fit. The window in this room makes it difficult for furniture placement.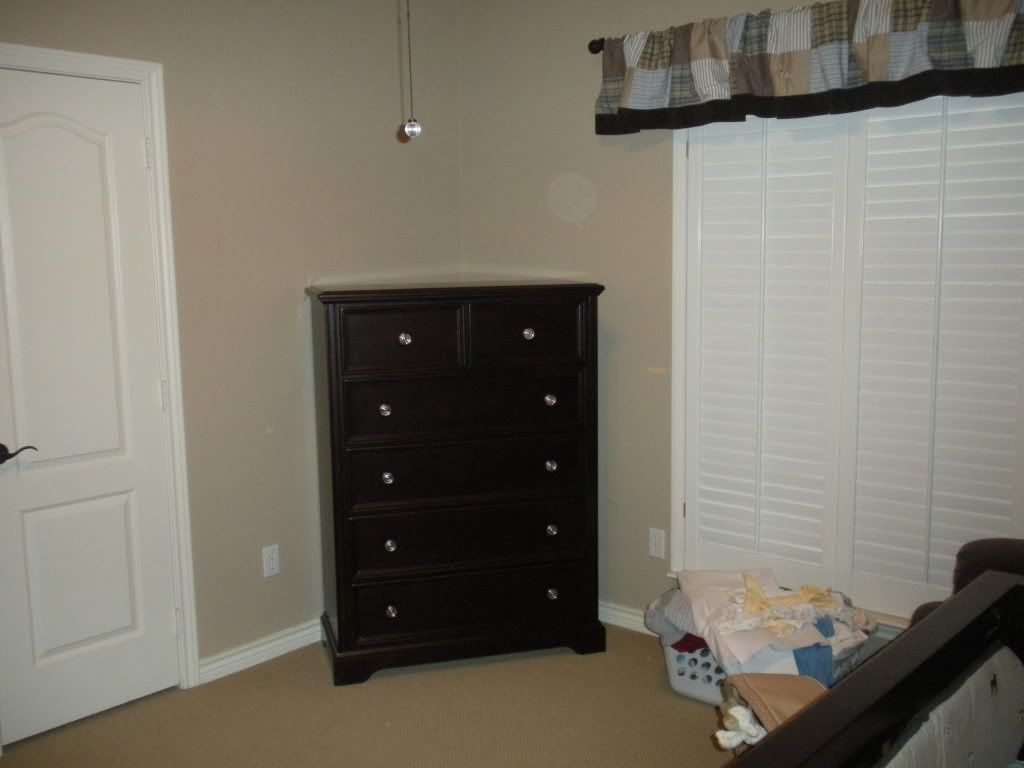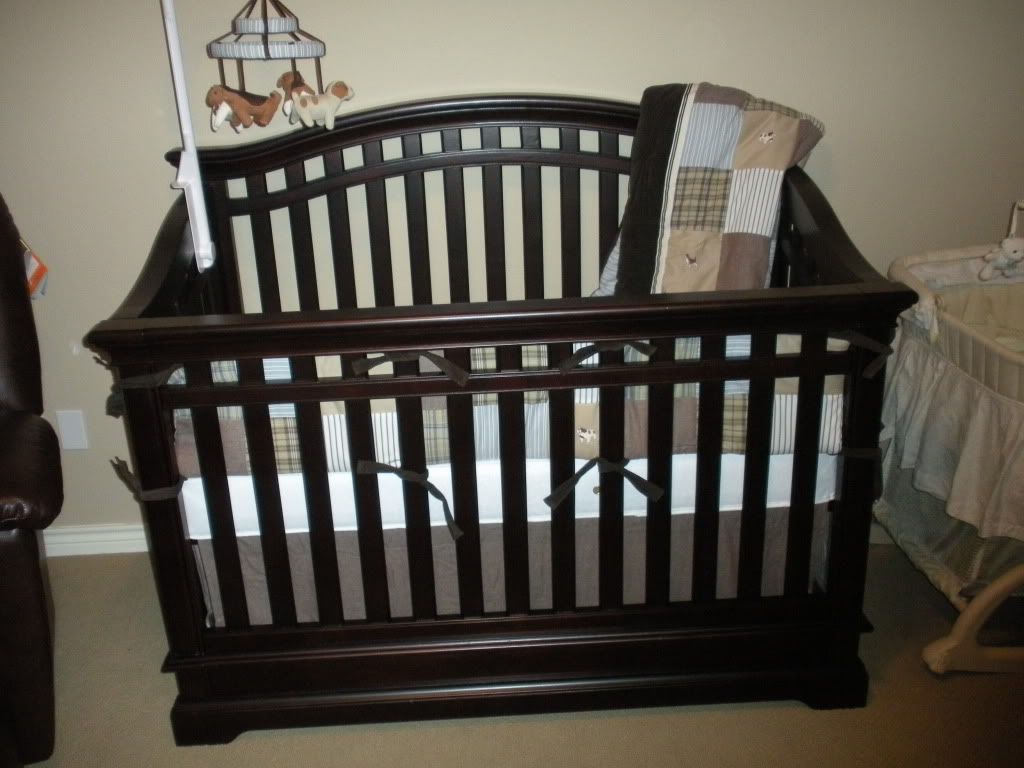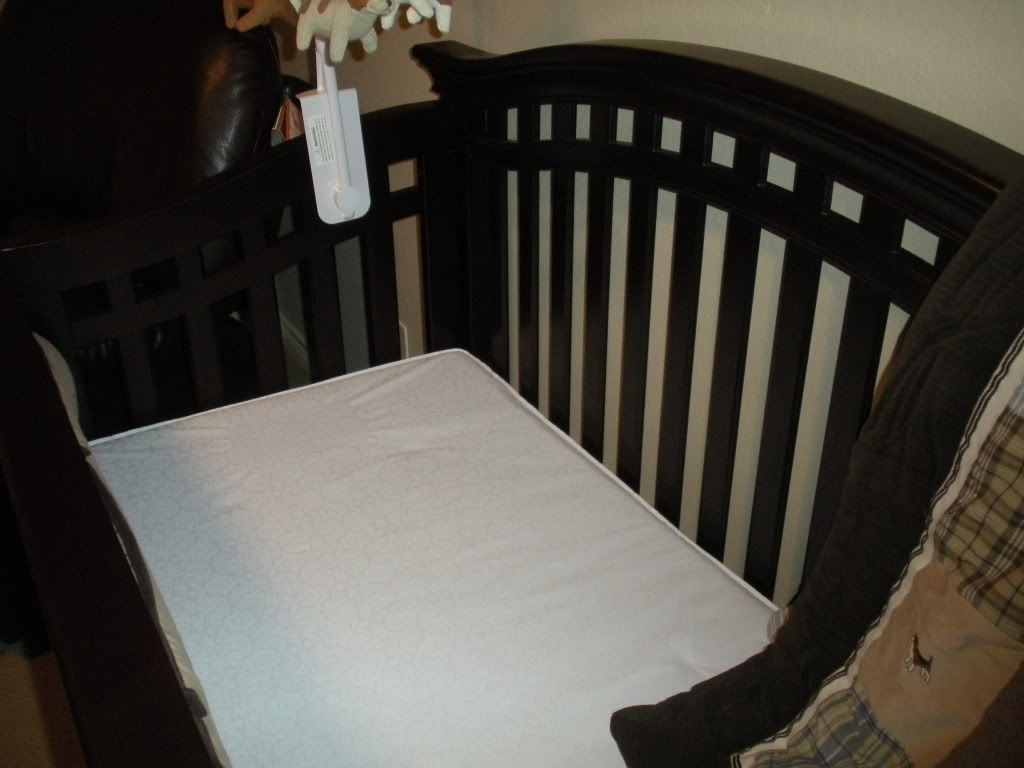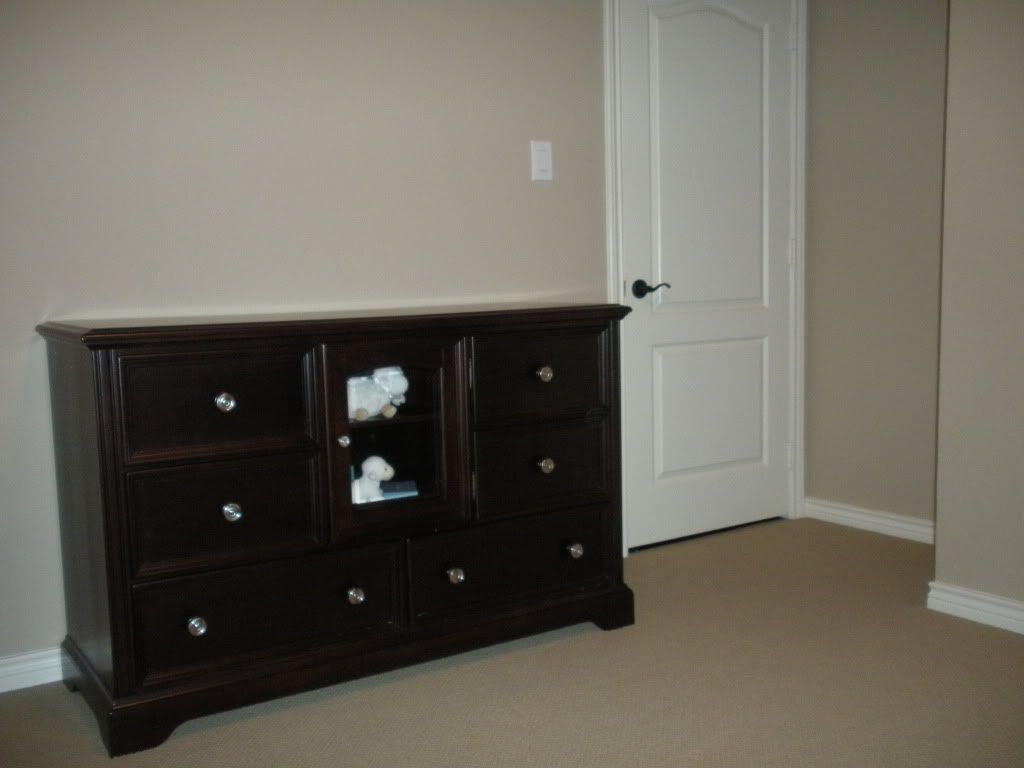 We also went with a LaZboy rocker/recliner for this room instead of a traditional glider. My reasoning is that I can use this chair anywhere else in the house down the road, plus it is a pleather material, which is far more resilient to baby puke than cloth. :)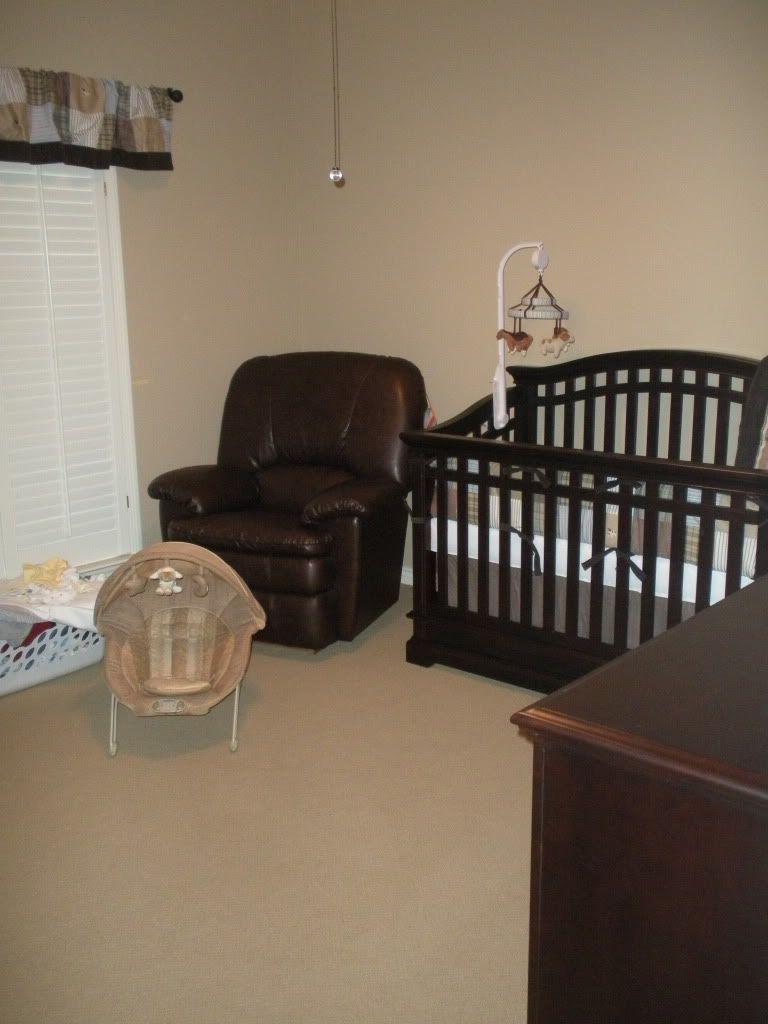 The only things left to do, are touch-up paint on the walls next to the window where the curtain tie-backs once were, and to find some wall hangings. I am not good at all with decorating, so I'm hopeful that we will figure something out to make this room more personal for our little boy. We still have 4 months until he arrives. That should give us enough time! I'm a big planner/organizer, so all of this had to be done ASAP for me to be comfortable.
Hope you enjoyed the pics!
Now, for your latest projects... Share!!
I have missed this community and really wish there were more updates! A lot has happened since my last refresh project on my house - most recently, we've started a family! Well, not officially, just sort of. We're pregnant and due in December, so guess what that means... A nursery!