I am Jae, 40 years old, and I live in Germany, in a house that's about 35 years old. needless to say it needs constant upkeep and improvement, and I love to do things then are creative and decorative. So I'm looking forward to spending time with this community and find new ideas what to do with my house :-)
I've been seeking out some home and home improvement communities and found this one in a search.
Hi everyone. I just wanted to introduce myself. My name is Tisha and we bought our first house about 2.5 years ago. We're just now getting to where we can afford to get some fun things around the house. For me, that means a china cabinet we're redoing and some stuff to hang on the walls.
I've been posting in Domesticity for a few days, so some of this is cross posted.
I just thought I'd share some photos of a few things going on around our house.

( Lots of photos under the cut...Collapse )

There's no "after" on the china cabinet yet, but I hope to have it done in the next week or so.

Thanks for looking!

Current Location:

OKC, OK

Current Mood:

creative
**********
Hopefully I'll be able to do a video soon, but here's a peek at our living room. We do shades of garnet and gold ornaments paired with old world santas. Keep in mind, we have a point and shoot and we've yet to master all of the settings. Without knowing how to really work the apertures, there were a lot of splashes of light, but I like the way it works in the first photo.
Next year, I'll probably work a ribbon 'round the circumfrence of the tree and add a few more ornaments. Every other year I hope to add a slimline tree to the three remaining windows in the front of the house, each with a different theme. My next one is slated for icy colors with snowflakes.
(
Image heavy
Collapse
)
I know this is late and I'm sorry. I just got approved for the community and wanted to share our Christmas tree post. I need to take a few outside shots of our decorations and then I'll put up the rest of the interior.
Usually for christmas we put the christmas tree in our livingroom, but this year we decieded to do something different. we cleared out the den which is just across the hall and put the tree there. My husband had some people coming over last week so we put the coffee table that we usually throw our feet on in the front living room. We also brought up one of the dining room arm chairs from the basement and used it as a side chair. i'm surprised and what we came up with , especially with things we already had in the house. we also moved two lamps of my grandmother's from around the house to the side tables on either side of the couch. they are a bit gawdy with gold swirls and gold floral shades, but they work and they don't look too out of place. plus they give off a good amount of light.

The reason i took this picture was that my husband finally got around to hanging all his framed photography that's been sitting in the corner for several years. i'm so happy to have his art on the walls and so is he. so i'm hoping that he'll put up more frames so our home looks like we live there.


I have learned to loathe wall paper, because if you don't like it or get tired of it, it is a beast to change. Paint is much easier to change when you are ready.
The house I had before this one had UGLY wall paper in the bathrooms. The bath was very handily arranged. Two lavatories with doors into a shared tub-with-shower room, so that a bath-and-a-half functioned as 2 full baths. Very clever. BUT wallpapered in stuff that was dated and unattractive. And coming down in the shower.
So, I thought I'd take it down and paint it.
Started with the half bath by the master bedroom. Let me just say that bright yellow first thing in the morning is a little harsh. And thank heavens for towels. They really did tone it down.
I put a border up that was hydrangeas and gave me a connecting theme for the other thirds of the rooms. The other 2 rooms got colors from the border. Green and periwinkle, which have coincidentally followed me to this house. (Clearly choices I liked.)
I was talking about that to a cousin and he said yellow paint is hard to use. If you don't want a shade 2 up or 2 down on a paint chip, it's the wrong color. I'm thinking he's correct.
The yellow I got for this kitchen, trying to avoid "glaring", is almost beige. Which is probably wise. And, once again, painted after stripping off wallpaper I didn't like.
I laugh at myself that
the wallpaper I removed was blue/bluegrey/grey strips above cream
and I
painted light yellow, then hand painted lavender stripes below
.
I find yellow to be a tricky paint color.
I put a base coat of lilac on the walls: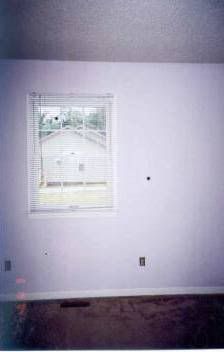 And my friend, Deanna, helped me color wash it with iris: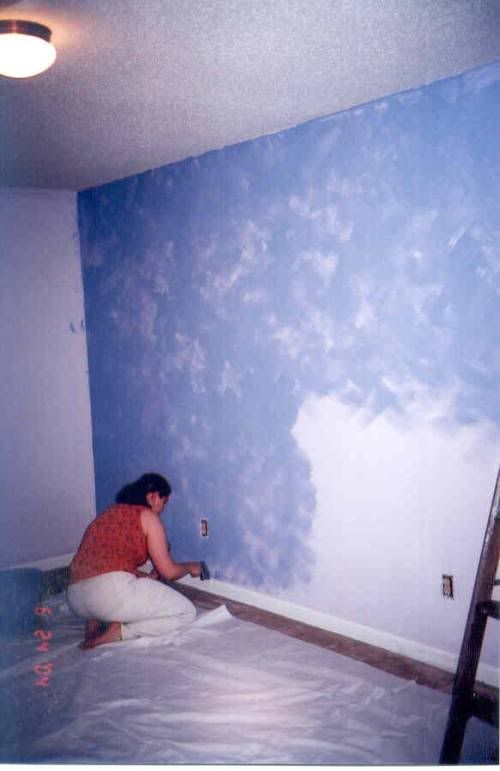 So, it looked like this: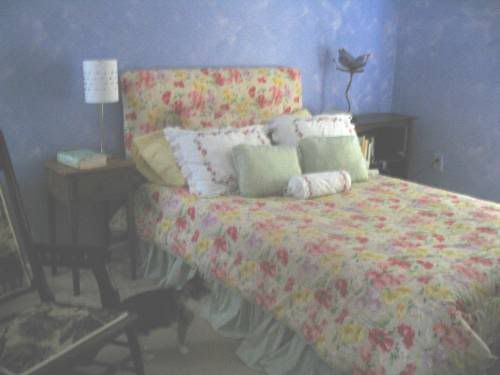 I replaced the closet doors with mirrored doors.
And I found wooden face plates for the electrical outlets and switchplates for the light switches that I could paint the same way I had done the walls to make them sort of disappear.
Last year my husband replaced the overhead light with a ceiling fan. I can't get a good picture of it, though, because it is either too dark or the lights give it a glare.
This is my realtor and me in the master bedroom of my house the day I bought it: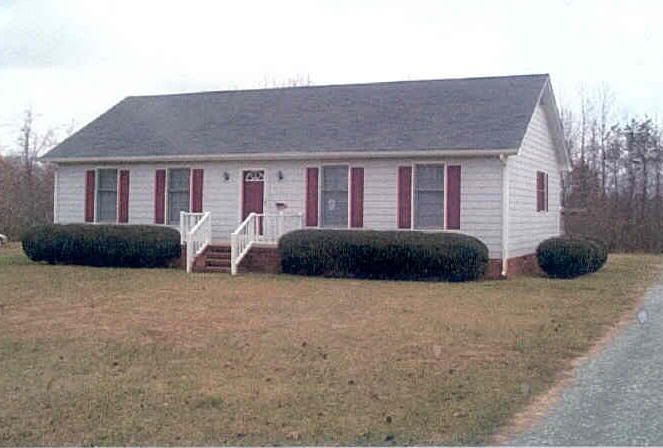 And this is what it looked like last year when we painted it: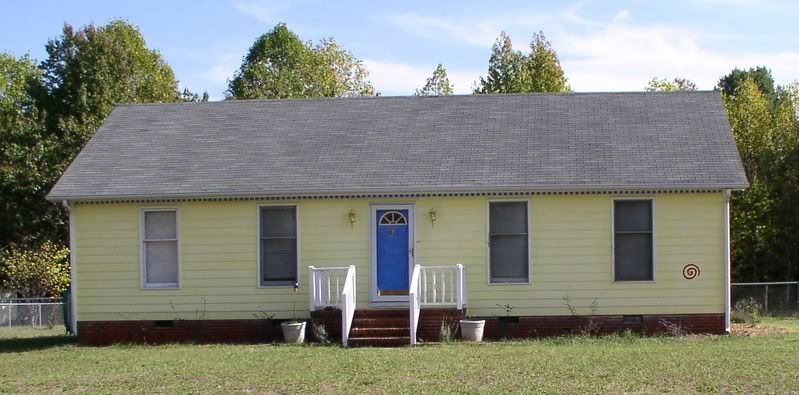 This is what my house looked like when I bought it 4 and a half years ago: